Goodies for practitioners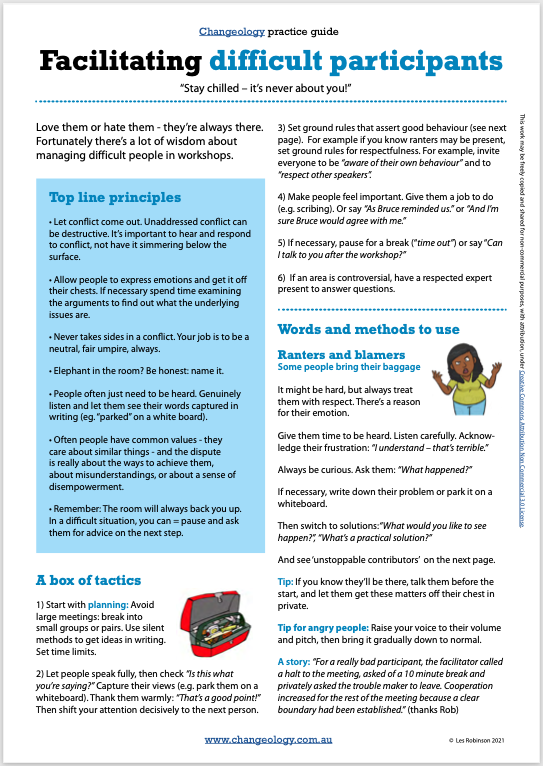 Difficult participants
Yep... love 'em or hate 'em, difficult workshop participants are a fact of life. Fortunately there's a lot of ways to happily manage even the most cantankerous. This 2-page guide distills the practical wisdom of folks in Les's Facilitation Skills workshops.
Download here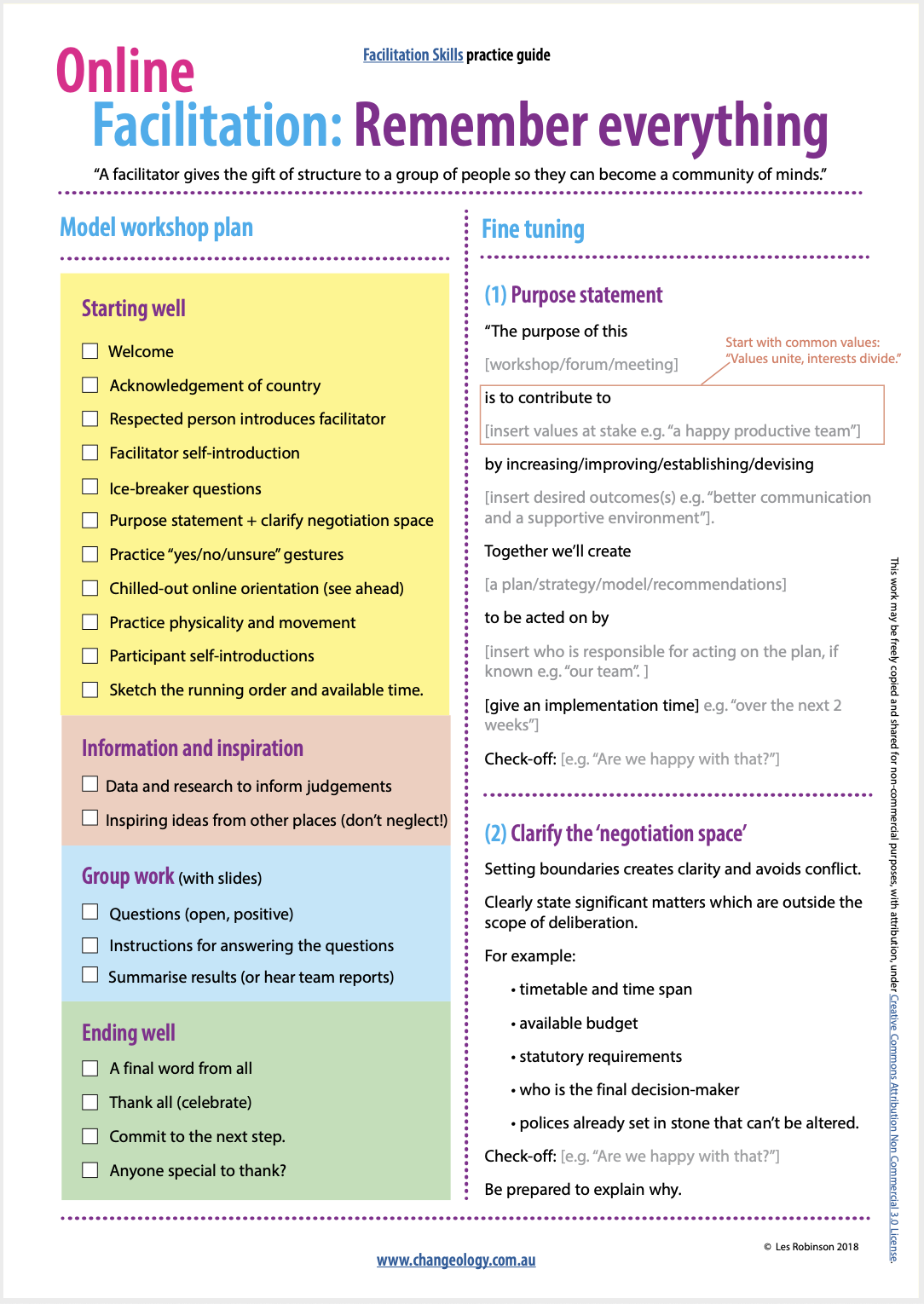 Remember everything ONLINE
Taking a workshop or meeting online isn't that hard. It just needs some special planning, especially about orienting your participants in the new space and setting ground rules - the more physical your participants are, the happier they'll be! Here's a handy guide to important stuff never to forget!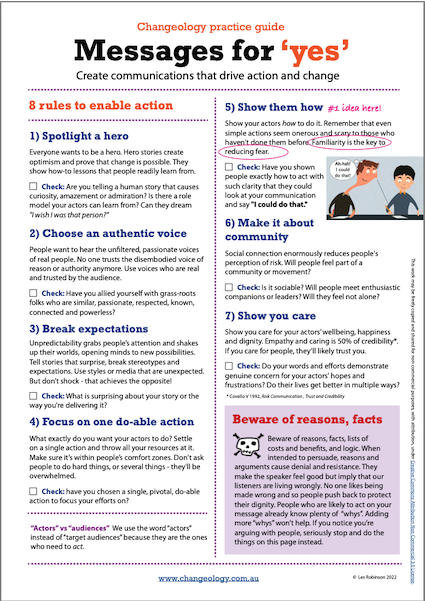 8 rules for communication for change (plus tips)
Communication for change has different rules to "inform" or "educate" communications. We're asking people to invest effort and negotiate risk. And we have to contend with people's natural fears and tendency to resist and deny any form of pressure.
So what does work? Here are 8 rules and a page of tips.
Facilitating change
Workshops can be great for enabling change. But what's the ideal workshop structure?
Download here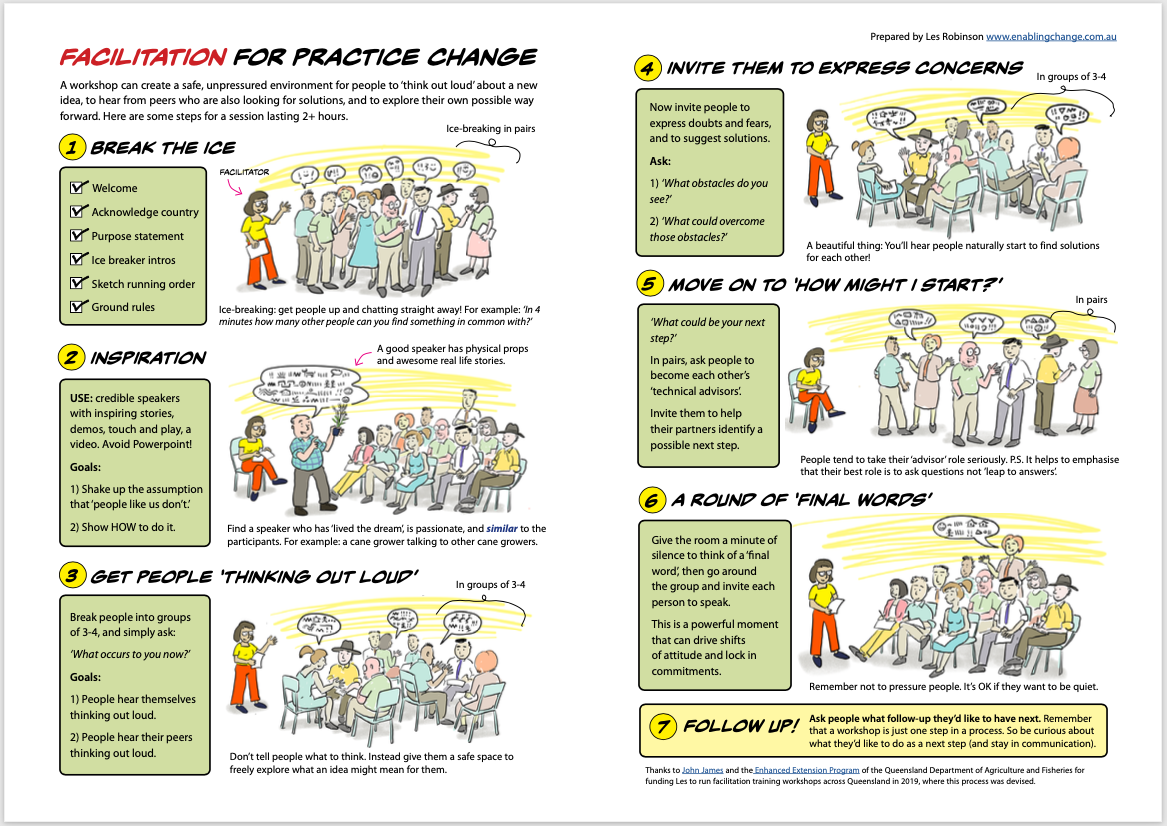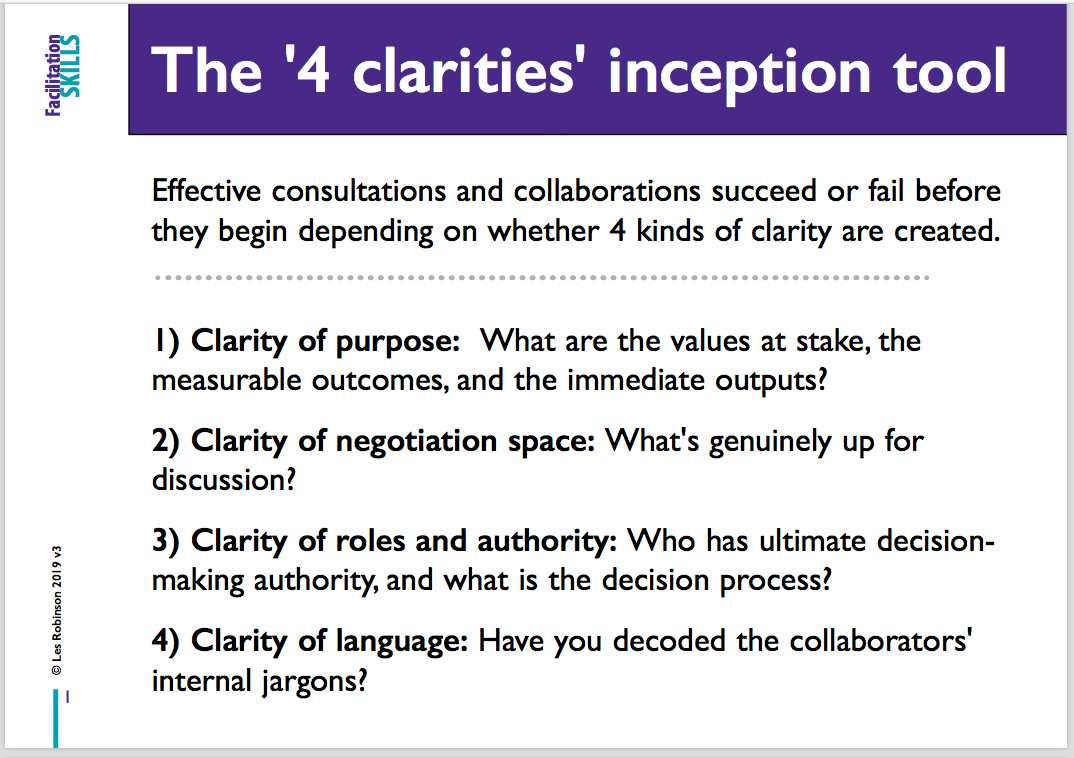 The 4 Clarities Collaboration Inception Tool
Whether partnerships or public consultations succeed or fail depends on what happens in the inception phase (the first time the project partners or project team come together to plan the effort).
The Inception Tool has 4 clarities that have to be got right to avoid conflict and mess down the track.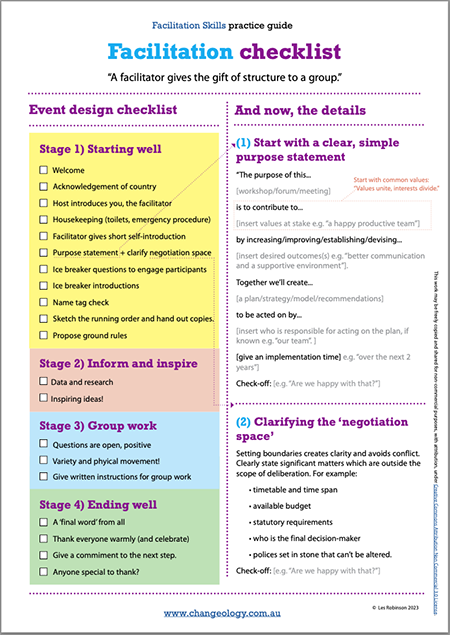 Remember everything
I always forget something when I facilitate, so I made this handy guide to never forget important stuff!
The physics of enthusiasm
Les explaining why changing people doesn't work, and could fundamental physics possibly teach us anything about human nature? From Cecilia Macaulay's Fireside Skillshare in June 2017.
Les shows how to use the awesome "If not, then what?" method
It's a way to generate a host of convention-busting ideas amazingly quickly.
The 6 dimensional enchanting event constructor
The secret to engaging people is to be engaging! Here's a fun tool to release our inner genius and construct events which are fun, game-like, sociable, yummy and irresistible. The 6 dimensional enchanting event constructor.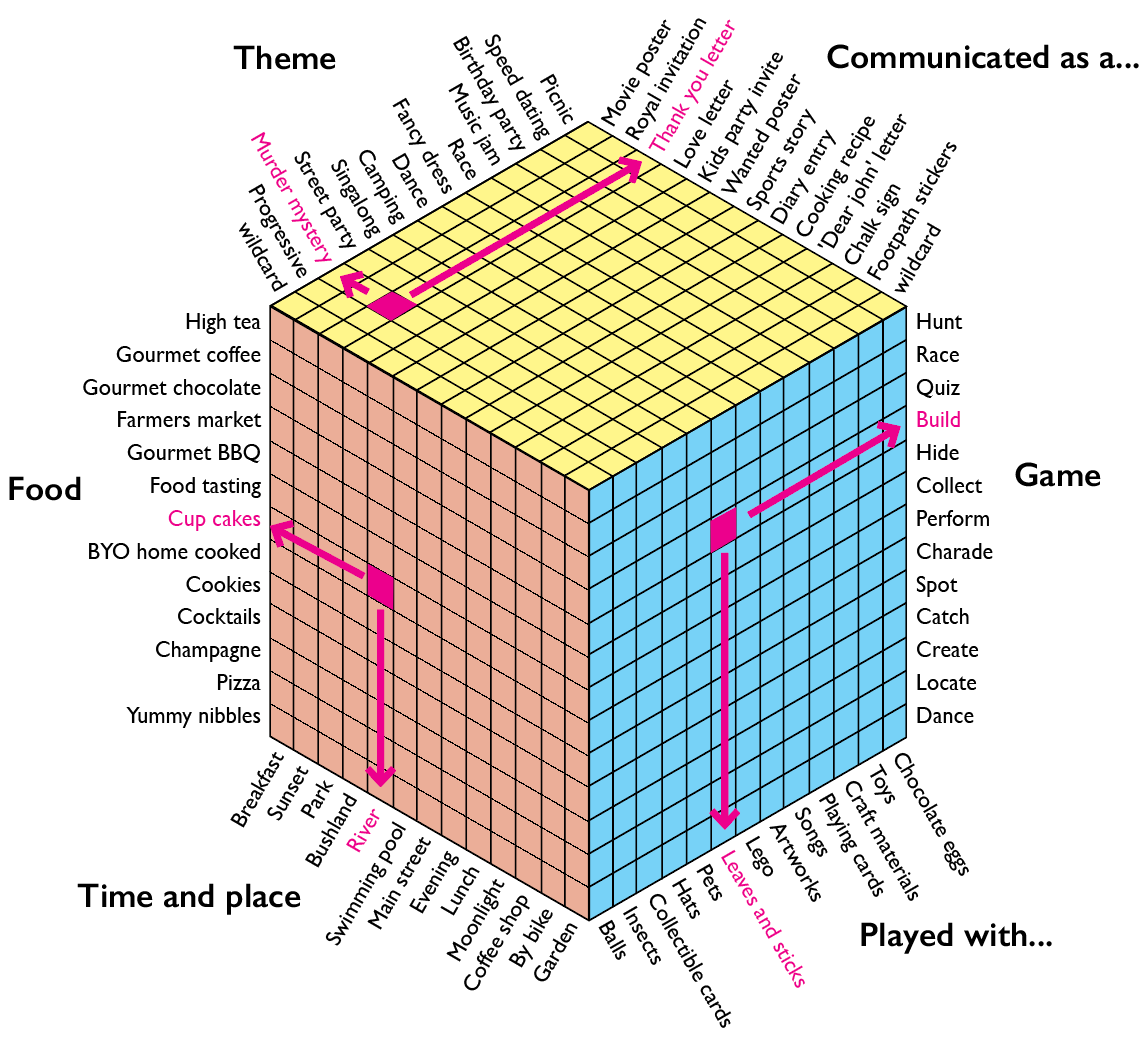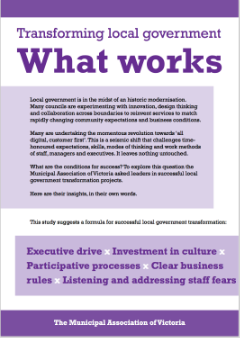 Transforming Local government: What works
Local government is in in the midst of an historic modernisation. This is complicated and challenging work. Is there a formula for success? This short study is based on interviews with change leaders in local government.
Here is 'how to do change' in the words of the change makers.
Download the booklet (142k PDF).
Facilitation tricks to spice up workshops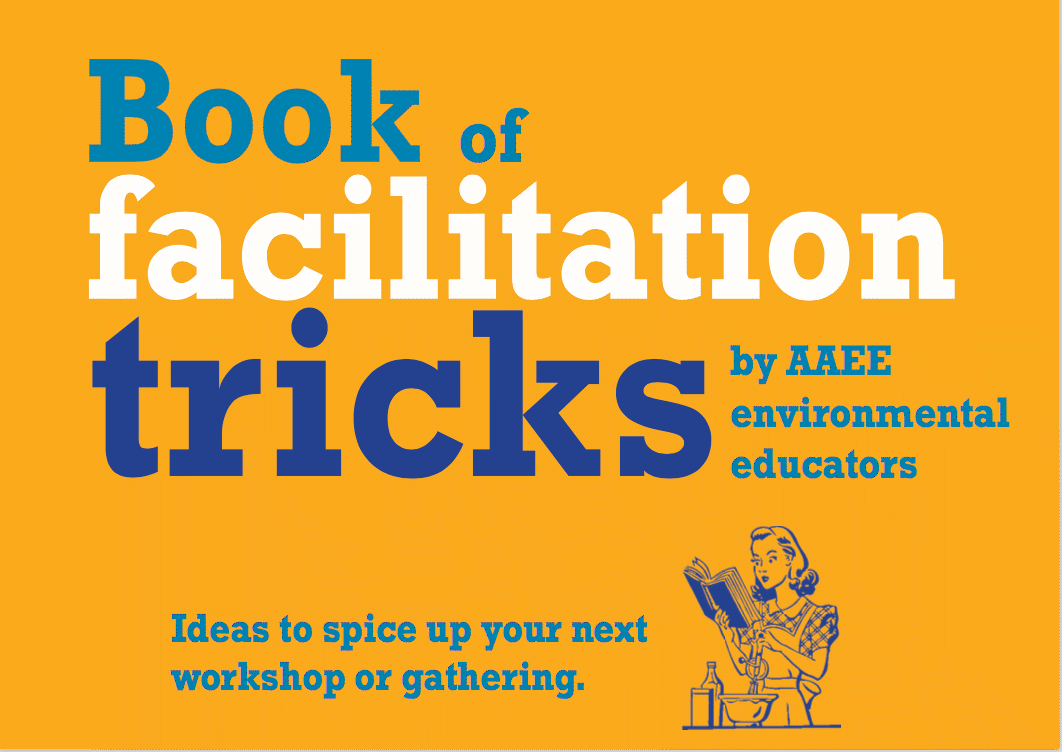 Creative and fun ice-breakers and inspirations.
Kindly shared by NSW environmental educators.
Download the booklet (142k PDF).
How to use the bell curve
We've all heard of the bell curve. Here's a way to use it as a practical project design guide.
How to instruct a brainstorm
Brainstorming is one of the most important things we do. Here's a word-by-word script that builds in the good things we need to think about to get the most out of a gathering of minds.
Here's the script.
Suggested Design Thinking resources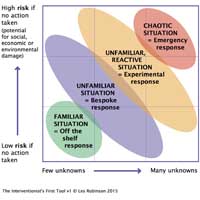 The interventionists' first tool
Mismatching the style of intervention and the situation you face is the cause of failure, waste and, sometimes, catastrophe. Which class of intervention matches your situation?
Situation Diagnosis Tool.
Outcomes, objectives, blah blah...
The terminology of project design is life-drainingly managerial and colourless. Here is a suite of more self-explanatory terms.
The language of project design.
The changeology of waste and recyling - some inspiring solutions
What influences waste and recycling behaviours? Here's an inspiring slideshow to excite the imaginations of your team or brains trust.
Download the slideshow. (2.4Mb PDF)
"Seriously, friends, we need to talk."
There's a problem with the way we design change projects: "Change Project Management 101" is holding us back. There's a better way.
Why "Surprise yourself!" is the missing magic.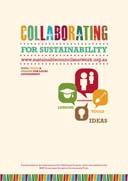 A great guide for community-of-practice facilitators
A really marvellous resource for anyone who wants to create a community-of-practice. I've had a look around and I think this might be easily the best one available.
Collaborating for Sustainability GUIDE (30pp, 6.3Mb PDF)
Collaborating for Sustainability Case Studies (22pp, 4.1Mb PDF)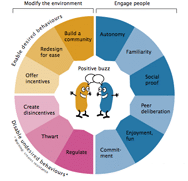 =
Comfy Zone Diagnostic Tool
=

Decisions, decisions, and so much to think about! This simple tool reminds project designers about the full range of behaviour change strategies available to them and when they should be used.
Download the tool (152k PDF). =
Les explains the key ideas in Changeology = in this succinct interview with Rob Hopkins of the UK Transition Network. "If not, then what?" ideas for Landcare groups
How to reinvigorate a Landcare or bushcare group. An inspiring collection of reinvention ideas generated by participants in Les's Passion Mashin' workshops. Download the booklet. (287k PDF).
Cooking up workplace behaviour change
Instead of challenging employees' comfort zones, it's better to expand them. One page summary. Full presentation with business examples. (590kb PDF)
"Mentoring for Sustainability"
The world's best guide for running mentoring projects (we know, we checked). Despite the title it's suitable for any context. Cowritten by Graham Collier, Chris Grey, Peter Cumming and Greg Freeman - some of the smartest people in the field. Download the Guide. (1.5Mb Word doc).
How to design a travel behaviour change project
A crash course in the principles and practice of designing behavioural projects, with lots of examples from the field of workplace travel change. Written for the WA Department of Transport. Download the 8 page fact sheet. (1.9Mb PDF).
A Palette of Behavioural Interventions
One of the biggest challenges facing program designers is to imagine the full range of interventions available to them. This two-page tool sets them out simply and accessibly. Get the tool.
How to craft a persuasive climate change message
It's time to shift the climate change discussion from facts to actions. Here's an example of how to do it, based on lessons from behavioural psychology. Download (1.1Mb PDF).
The 5 Doors
Confused by behaviour change theories? Here's one that wraps some of the best thinking into 5 simple principles. It's guaranteed to generate insights that change the way you work. 5 Doors Theory (147k PDF). 5 Doors diagram (12k PDF).
FAQs about behaviour change
The same questions about behaviour change come up again and again. Here are some answers that might be useful. This article first appeared in The Guardian. (86k PDF)
What enables cycling?
This study, carried out for the City of Sydney, will be of interest to anyone wanting to increase cycling in their communities. Download the study. (1.5Mb PDF)
Download the cycling logic model (168k PDF)
The dark side of regulating behaviour - the case of seat belt laws
Seat belt laws were supposed to make us all safer. Amazingly, after 40 years there is still no certainty about whether they have done so. Instead seat belt laws demonstrate some of the unexpected "blow-backs" that undermine attempts to legislate behaviour. Download. (246k PDF)
How to change the world - one conversation at a time
Prepared for the Australian Conservation Foundation - a short guide to hosting conversations that lead people to action in their lives, businesses and communities. Download. (292k PDF)
How-to tip sheets for community groups
Starting a community group? These 18 practical how-to sheets simplify the key tasks in community organising. Everything from starting a committee to getting members to attend meetings. The tip sheets page.
A crib sheet for brainstorming program objectives
It can be so hard to think outside the square! Every project planner needs a little help when developing program objectives. The crib sheet. (100k PDF)
5 steps to create motivation
I was writing a guide for starting parents' self-help groups and it occurred to me that this bit was a neat summary of what it takes to create motivation (which, after is, is a change agent's main job). Here 'tis.
How to make a theory of change
An engaging and collaborative method for designing programs to tackle complex social and environmental problems. (508k PDF)
Test your changeABILITY
Take this enjoyable quiz to check whether your next behaviour change project is likely to achieve its goals.
Who are the Green Hats? - an investigation into the motivations of early adopters of sustainable business practices
A study on how to better promote sustainable business programs. (630k PDF)
Success factors for community engagement
These two checklists will help maximise community participation in your next planning, decision-making or hands-on project. (72k PDF)
The voluntary adoption of new practices
Report on a unique research project that explored 93 personal stories with fascintating insights into the nature of voluntary change. Download the study (484k PDF).
13 steps to good practice
A best practice checklist for environmental educators and change agents. Download the checklist (176k PDF).
Zestful activities for environmental educators
A collection of 15 fun activities to help build groups, explore values and strategise (188k PDF).
What's best?
A decision tool for choosing the best community education strategy (352k PDF).
When to share decisions?
Two decision tools for choosing the right level of public participation in decision making. (PDF 348k).
Education for Resilience
This study, for State Emergency Service NSW, presents a communication model for building the resilience of vulnerable communities in the face of natural hazards, as well as offering some solutions to the perennial problem of motivating the public on low probability hazards.
Download the full study. (PDF 248k)
Public participation in decision-making
This consultancy, sparked by intense controversies over waste management in Western Australia, looked at international best practice in community participation, recommended a new approach and provided decision tools which aim to make communities more equal partners in decision-making for new waste management technologies.
Full report (328k PDF).
Two useful papers are available:
The qualities of effective public participation processes (PDF 185k) and
Two decision tools for setting the level of public participation (PDF 348k).
The Change Agency's resources for activists

An excellent Austalian site packed with change, facilitation and advocacy tools. Link