Workshops coming up in 2017: Sydney, Melbourne,
and now (at last) in Brisbane.
Get the ideas, inspirations, processes and tools to devise projects that change the world. Full details.
Sydney 27-28 April | Melbourne 8-9 May
Book a place: Sydney or Melbourne.
Facilitate with Confidence
Facilitate any gathering with skill and authority
Lay a solid foundation for your role as a facilitator of meetings and workshops in any context. Full details.
Sydney 25 May | Melbourne 10 May | Brisbane 3 May
Book a place: Sydney or Melbourne. Brisbane
Engagement LAB
Make community participation irresistible
The creative techniques and tricks to generate projects your community will want to participate in.
Four reasons not to do this workshop. Full details.
Brisbane 4 May
Book a place in Brisbane
New resources for change makers
How to instruct a brainstorm
Brainstorming is one of the most important things we do. Here's a word-by-word script that builds in the good things we need to think about to get the most out of a gathering of minds.
Here's the script.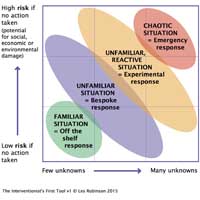 The interventionists' first tool
Mismatching the style of intervention and the situation you face is the cause of failure, waste and, sometimes, catastrophe. Which class of intervention matches your situation?
Situation Diagnosis Tool.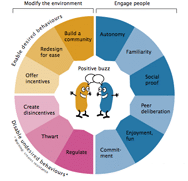 Comfy Zone Diagnostic Tool
Decisions, decisions, and so much to think about! This simple tool reminds project designers about the full range of behaviour change strategies available to them and when they should be used.
Download the tool (152k PDF).
Les shows how to use the awesome "If not, then what?" method
It's a way to generate a host of convention-busting ideas amazingly quickly. From the fun session at the North East Landcare Forum 2013.
Quote
de jour

"Health promotion has been defined as the business of making people live miserably so that they can die healthy.

"The history of health promotion is one in which pleasure has played a fleeting role, and in which suffering appears to be paramount. Rarely are we shown the enjoyment that derives from a healthy life."

Ð Prof Michale Daube
The Change
ology model

The all-purpose model for designing behaviour change projects. More.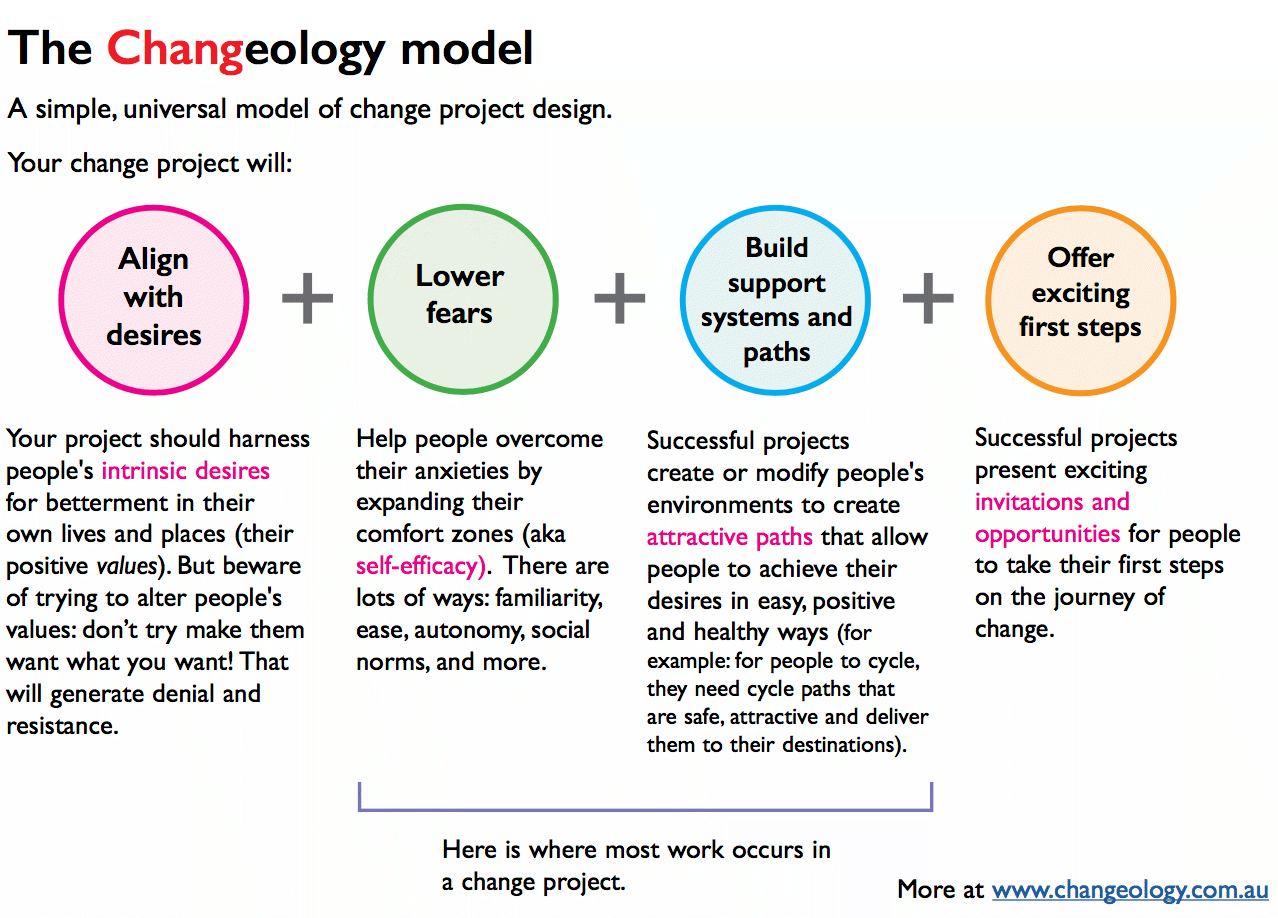 How to
change a system

Here are 18 ways to change any system, with strategies ranging from weak to strong, inspired by the work of Donella Meadows.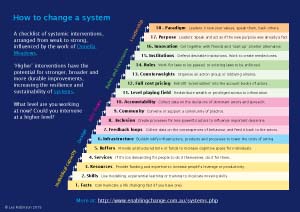 Most read articles

The problem with Social Marketing - why you can't sell change like soap
This paper presents a critique of Social Marketing. Why the answer to "wicked" problems requires different approaches. The paper. (140k PDF)

Enabling Change: the process and the theory
Here is the step-by-step methodology and the theoretical background to the Enabling Change method of program design.
The Enabling Change process (260k PDF)
5 Doors Theory (147k PDF). 5 Doors diagram (12k PDF).

Introduction to the Diffusion of Innovations
A succinct introduction to the model of change that focuses on innovation design, viral communications, and satisfying the needs of users. Download (259k PDF)
[This article is very popular. It gets downloaded about 4,000 times a month.]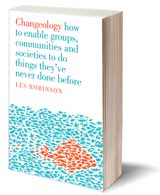 "An enjoyable, inspiring crash course in social change thinking."
What it's all about.
And where to get it.