Upcoming workshops: April 2014
Changeology: Projects that change behaviour
For those aiming to tackle complex social, environmental or health challenges, this enjoyable 2 day workshop gives you the ideas, skills and tools to proceed with confidence. Full details.
Sydney: 1-2 April
Melbourne: 29-30 April

Art of Take Up: Reinventing your service or project
A one day "innovation lab" to put an inventive zap into your service or project. Our promise: you'll be excited by the solution you create! Plus you'll prepare the perfect pitch to sell your idea. Full details.
Sydney: 10 April
Melbourne: 2 May
Facilitation Skills: Facilitate any gathering with confidence
Facilitation is a change maker's core skill. Les shares the skills and tools to positively facilitate almost any group in almost any situation. Full details.
Sydney: 8 April
Melbourne: 1 May

New resources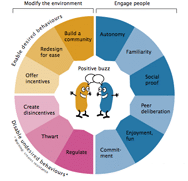 Comfy Zone Diagnostic Tool
Decisions, decisions, and so much to think about. This simple tool reminds project designers about the full range of behaviour change strategies available to them and when they should be used.
Download the tool (152k PDF).
Les explains the key ideas in Changeology
in this succinct interview with Rob Hopkins of the UK Transition Network.
Les shows how to use the awesome "If not, then what?" method
It's a way to generate a host of convention-busting ideas amazingly quickly. From the fun session at the North East Landcare Forum 2013.
Cooking up workplace behaviour change
Instead of challenging employees' comfort zones, it's better to expand them. One page summary. Full presentation with business examples. (590kb PDF)
How to design a travel behaviour change project
A crash course in the principles and practice of designing behavioural projects, with lots of examples from the field of workplace travel change. Written for the WA Department of Transport. Download the 8 page fact sheet. (1.9Mb PDF).
"If not, then what?"
How to reinvigorate a Landcare or bushcare group. An inspiring collection of reinvention ideas generated by participants in Les's Passion Mashin' workshops. Download the booklet. (287k PDF).
How to craft a persuasive climate change message
It's time to shift the climate change discussion from facts to actions. Here's an example of how to do it, based on lessons from behavioural psychology. Download (1.1Mb PDF).
FAQs about behaviour change
The same questions about behaviour change come up again and again. Here are some answers that might be useful. This article first appeared in The Guardian. (86k PDF)
What enables cycling?
This study, carried out for the City of Sydney, will be of interest to anyone wanting to increase cycling in their communities. Download the study. (1.5Mb PDF)
Download the cycling logic model (168k PDF)

CHANGEOLOGY, the book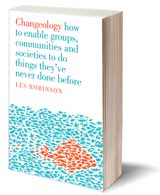 "An enjoyable, inspiring crash course in social change thinking."
Now on sale in the UK, USA, Australia and New Zealand. What it's all about.


Les Robinson brings behavioural science, clear thinking, warmth and fun to the practice of designing change programs.
Les helps change making organisations devise innovative projects. He trains their staff and volunteers in the fields of sustainability, health promotion, road safety, natural resource management and emergency management. He facilitates engaging forums, workshops, community events and conferences.
"Les is a great facilitator, excellent attitude and I appreciate the way he keeps things on track, interesting, fun and practical. Best facilitation I've seen in my year in this job!!"
- NRM facilitator, Gippsland
Les offers these lively and inspiring workshops:
Changeology The thinking and practice of designing behaviour change programs.
Art of Take Up A one day intensive on innovation and design thinking.
Facilitation Skills Facilitate any group with confidence.
Plan it Together Skills and tools to engage a community in plan-making.
Workplace Behaviour Change Engage your staff in new workplace practices.
Passion Mashin' Reinvigorate Landcare and bushcare groups.
About Les's thinking and approach:
The Enabling Change process (260k PDF)
5 Doors Theory (147k PDF)

| | |
| --- | --- |
| | Les's Changeology blog is about what it takes to make change happen. Follow for insights, ideas and innovations. |

Les is currently excited by:
Andrew Coulson's Innovative Community Engagement and Guerilla Community Welfare Pinterest pages never fail to thrill with exciting ideas for activating communities. He's my first stop when trawling for inspirations.
OpenIDEO
This site, launched in August 2010 by global design firm IDEO, enables social, health and environmental problems to be tackled by virtually unlimited communities of collaborators through a process of inspiration, concepting and evaluation. No more need exhausted committees sit around wondering why they can't solve the world's problems with their own comparatively tiny cognitive resources.
The Conversation
My new addiction. The sublime knowledge of Australian academia, rendered into crisp journalese, plugged directly into the daily zeitgeist. Whoever created this is a genius.