The complete toolset for devising behaviour change projects, including innovation skills, buzz-making, and lots of inspiring examples. Plus plenty of stimulating conversations and great company. Really engage a community in change. Venues, details. Book a place.
Facilitate with Confidence
Facilitate any gathering with skill and authority
Lay a solid foundation for facilitating meetings and workshops in any context.
Venues, details. Book a place.
Engagement LAB
Making community engagement irresistible
Inspirations, tools and techniques to engage your community in plan-making. Venues, details. Book a place.
New resources for change makers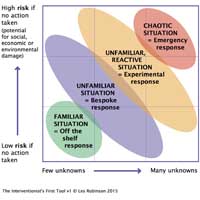 The interventionists' first tool
Mismatching the style of intervention and the situation you face is the cause of failure, waste and, sometimes, catastrophe. Which class of intervention matches your situation?
Situation Diagnosis Tool.
Introduction to The Diffusion of Innovations
Buzz, the bell curve, and design that aids the spread of new behaviours: all explained in this webinar presented by Les Robinson.
Introduction to The Diffusion of Innovations.
Outcomes, objectives, blah blah...
The terminology of project design is life-drainingly managerial and colourless. Here is a suite of more self-explanatory terms.
The language of project design.
"Seriously, friends, we need to talk."
There's a problem with the way we design change projects: "Change Project Management 101" is holding us back. There's a better way.
Why "Surprise yourself!" is the missing magic.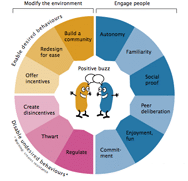 Comfy Zone Diagnostic Tool
Decisions, decisions, and so much to think about! This simple tool reminds project designers about the full range of behaviour change strategies available to them and when they should be used.
Download the tool (152k PDF).
Les explains the key ideas in Changeology
in this succinct interview with Rob Hopkins of the UK Transition Network.
Les shows how to use the awesome "If not, then what?" method
It's a way to generate a host of convention-busting ideas amazingly quickly. From the fun session at the North East Landcare Forum 2013.
How to
change a system

Here are 18 ways to change any system, with strategies ranging from weak to strong, inspired by the work of Donella Meadows.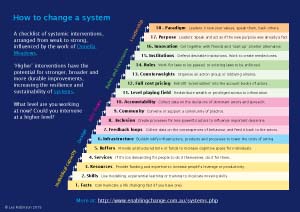 EPA-funded Changeology workshops
Hi NSW waste educators and waste managers. If you're booking into one of the EPA-funded Changeology workshops, please register using the green form on this page.
Sydney workshop dates are:
February Wed 24 and Thurs 25, 2016
April Wed 6 and Thurs 7, 2016
May Wed 25 and Thurs 26, 2016
Lismore workshop date is:
June Tues 7 and Wed 8, 2016
Enquiries: Email Les Robinson or call 0414 674 676.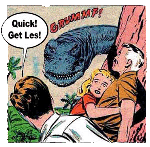 Real-time project-based coaching
Get Les!

Change the world in your own time, with Les Robinson as your friendly coach, using the complete Changeology SELF-DRIVE online project development toolset.
Full details.
Most read articles

The problem with Social Marketing - why you can't sell change like soap
This paper presents a critique of Social Marketing. Why the answer to "wicked" problems requires different approaches. The paper. (140k PDF)

Enabling Change: the process and the theory
Here is the step-by-step methodology and the theoretical background to the Enabling Change method of program design.
The Enabling Change process (260k PDF)
5 Doors Theory (147k PDF). 5 Doors diagram (12k PDF).

Introduction to the Diffusion of Innovations
A succinct introduction to the model of change that focuses on innovation design, viral communications, and satisfying the needs of users. Download (259k PDF)
[This article is very popular. It gets downloaded about 4,000 times a month.]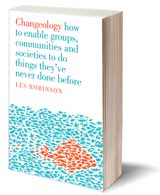 "An enjoyable, inspiring crash course in social change thinking."
What it's all about.
And where to get it.