The Art of Innovation:
Rethink your project or service to be zestful, engaging, and fit for need.
Learn how to create a project, service or event that excites your community, better solves problems, and spreads by word-of-mouth.
It's a crash course in design thinking and innovation practice...especially for tackling tricky social, health and environmental problems.
You'll learn fun, creative facilitation methods.
You'll generate solutions that attract attention, respond sensitively to people's hopes and needs, and spread contagiously by word of mouth (and are fun).
By learning how to involve your users directly in the process, you'll ensure your offering is an excellent fit the people it's intended for.
You'll also create a winning pitch that generates support from managers, funders and supporters.
Suited to professionals in corporations, NGOs, councils and state agencies...as well as volunteer leaders.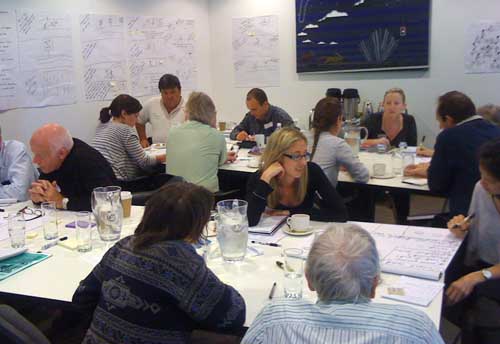 The City of Sydney used a one-off 'innovation lab' to develop fun, engaging projects that encouraged better behaviour by bicyclists.
During the day, you'll work in teams on real-life challenges to reinvigorate and relaunch existing services or projects, or generate entirely original answers to social, health or environmental problems.
You'll:
- learn how to establish a brains trust of users and experts;
- find out how to inform and inspire your brains trust;
- learn how to rethink a problem;
- run a workshop that uses creative techniques to generate ideas and assemble them into prototypes for testing;
- create a perfect pitch with an X-factor to win support from funders, managers and friends;
- take away a reinvented project or service model ready for testing.
And along the way you'll become a better and more creative facilitator.
This workshop suits:
community services (youth, aged, disability, clinical);
community engagement projects;
workplace change projects;
health promotion projects;
sustainability and NRM projects;
community road safety projects.

What happens in the workshop
Morning:

Introduction to innovation thinking + design thinking

Seven Innovation Principles
naivety: avoiding the curse of knowledge
curiosity: open-minded questioning
inspiration: being excited by possibilities
safety: safe times and places for imagination
multi-disciplinary: the 'who' matters
conventional methods: not the enemy
permission: to place small bets on unproven ideas.
Innovation method: Passion-mashing.
Innovation method: If not, then what?
Working in teams on real life project challenges
1) Rethink the problem and create a clear purpose or future
Briefing: What motivates people.
2) Establish your brains trust
Briefing: How to inform and inspire your brains trust.
3) Identify success factors

Afternoon:
4) Model your current assumptions (using program logic)
5) Reinvention brainstorms
Method 1: Assumption busting
Method 2: Solving the opposite problem
6) Get real (set evaluation criteria and filter the concepts)
7) Pitch your idea! Uses Les's perfect pitch template to sell your idea to funders, managers and friends.