Plan it Together 2
Learn the skills and rapid planning tools to engage your community in plan-making.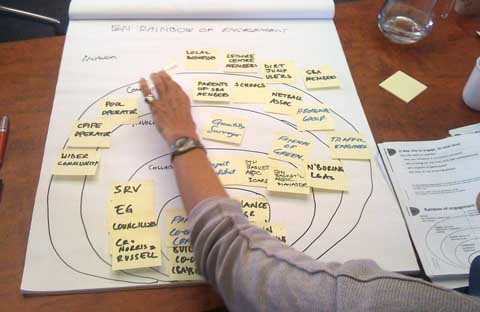 This intensive, hands-on, 1.5 day workshop equips up to 30 managers and staff to:
Design effective community consultation projects
Motivate public participation in decision-making and plan-making on any issue
Proactively respond to potential planning conflicts.
It's for planners, engineers, councillors, educators, and community facilitators.
In addition to the usual IAP2 concepts and rapid planning tools, the fully updated format includes:
a focus on innovative engagement ideas (and how to create them) with plenty of inspiring examples from Australia and around the world;

community outrage: how to predict, avoid, and manage it;

role of new technology and social media platforms.
Includes a 45 minute executive lunchtime briefing and facilitated discussion on effective community engagement practice.
The tools to plan effectively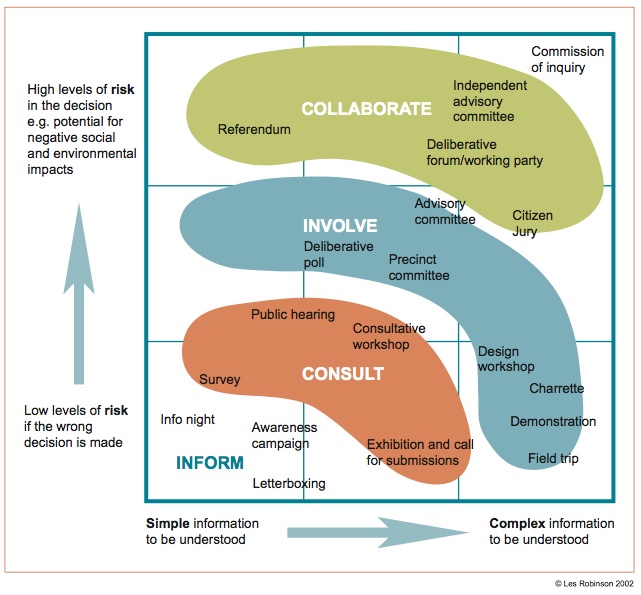 This enjoyable workshop, based on IAP2 principles, will share proven strategies and tools to design effective community consultation programs - all illustrated with insightful case studies from around Australia.
You'll understand the community engagement success factors and how to apply them.
You'll use a step-by-step design process to develop real life consultation projects including ground rules, participation techniques and key messages.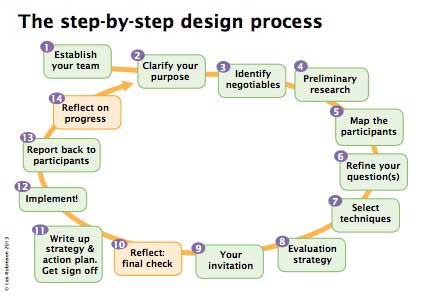 You'll apply a practical decision tools to choose the right consultation technique for each situation.
For more on the content of this training, see the booklet based on this workshop published by the NSW Office of Environment and Heritage.
EXTRAS OPTIONS:
1) A lunchtime briefing for the executive leadership team of up to 40 minutes in which Les summarises the key issues covered in the training, and then facilitates an open discussion. This can be very useful to drive organisational change.
2) An extra half-day on facilitation skills including: the 7 keys to effective facilitation; winning your authority to facilitate; dealing with conflict; and practice with an all-purpose template for devising a satisfying session.

For bookings and enquiries
To book in-house training email Les Robinson at:
workshops@enablingchange.com.au
or phone him on 0414 674 676
What they say
"Vital to anyone required to engage with others and get it right."
- Local Government Planner, Victoria
"Really good. I can see what my organisation and I have been doing wrong and how we can improve our community consultation processes and get the best out of them."
- Local Government Planner, Victoria
"Brilliant! This is one of the best workshops I've attended!"
- Council planner, NSW
"Great substance - great presenter! Thank you Les for sharing your expertise in such a palatable way."
- Emergency Services Manager, Perth
"Extremely stimulating and invigorating."
- Water Utlily Manager, Victoria
"Very informative, I feel more comfortable about engaging the community and involving them in a project."
- Water Services Manager, NSW Council
Community engagement resources

Les speaks on the value of clear negotiables and "one minute engagements".
Address to The Future of Local Government Conference 2013.
www.communityplanning.net
A great all round collection of tools, methods, case studies (UK)
Effective Community Engagement Workbook and Tools, DSE Victoria
Get Involved Community Engagement Guides, Qld Government
Success factors for community engagement.
Two decision tools for choosing the right depth of community engagement.
Who's done the training
This workshop has delivered to over 800 staff in councils and state agencies throughout Australia.
Organisations whose staff have enjoyed this training include:
Wyndham City Council (Vic)
Kogarah Council (NSW)
Bay of Plenty Regional Council (NZ)
Whakatane District Council (NZ)
Country Energy (NSW)
ACTEW AGL
Wannon Water (Vic)
Sydney South West Area Health Service
Tasmanian AIDS and Hepatitis Council
Bayside City Council (Vic)
Marrickville Council (NSW)
Bankstown City Council (NSW)
Blacktown City Council (NSW)
Byron Shire Council (NSW)
Maroondah City Council (Vic)
Surf Coast Shire (Vic)
Glen Eira City Council (Vic)
Moorabool Shire (Vic)
Cardinia Shire Council (Vic)
Barwon Water (Vic)
Adelaide and Mt Lofty Ranges NRM Board
Goulburn Mulwaree Council (NSW)
Fire and Emergency Services Authority (WA)
Australian Department of Defence
Sydney Catchment Authority
Dept of Environment and Conservation (WA)
Lachlan CMA (NSW)
Victorian Litter Action Alliance
Randwick Council (NSW)
Willoughby Council (NSW)
City of Mandurah (WA)
Dept of Health (WA)
Office of Crime Prevention (WA)
City of Subiaco (WA)
Nthn Agricultural Catchments Council (WA)