Facilitation
Les is a skilled facilitator of community forums, in-house planning workshops and conferences.
A good summary of his practice and philosophy of facilitation is contained in the CoCreate facilitators guide you can download from this website.
The principles he puts into practice include brisk pace, variety, plenty of peer-peer interaction, giving responsibilities to participants, and being responsive to participant needs.
Establishing a clear purpose and agreed ground rules at the start helps ensure easy participation and minimises conflict.
Once the event commences he likes to flexibly adapt the pace and staging to ensure that participants really enjoy their opportunities for input, discussion and learning.
Above all, his aim is to create great conversations in which all participants are respected and their input invited and valued.
Here are some comments from participants:
"Fabulous, the pace and pitch was unfaultable (and we can be a tough crowd!). Sensational facilitation, kept us on track and inspired."
- Council Community Engagement Strategist, Victoria
"Les is an excellent facilitator, excellent attitude and I appreciate the way he keeps things on track, interesting, fun and practical. The best facilitator I've seen in this job."
- Natural resource management facilitator, Victoria
"Excellent workshop all round. Les is a very trustworthy, accomplished, and compassionate facilitator. Excellent manner and ability to build rapport and judge participants' expectations."
- Manager, Barwon Water
"Fantastic! Great tone, content, style and it was fun!"
- Sustainability manager, local government, Victoria
"Excellent. Pace brilliant. Facilitation skillful, respectful and inclusive."
- Natural resource management facilitator, NSW
"First, thanks for helping to make the Summit a huge success. Secondly, the feed back we have received via the evaluation forms has been nothing short of unbelievable. Emails have been zipping around the optic fibres reiterating what a great time delegates had, how usefully and relevant proceedings were and asking the big question, when is the next one."
- organisers, Professional Association of Road Safety Officers annual conference
Recent examples
Here are some examples of Les's recent facilitation work:

"Dawn of a New Age in HIV Testing and Treatment" workshop
40 reps of Sydney-based HIV organisations, clinicians, and researchers sat down for a one day "Rapid Program Generator" event that developed a collaborative strategy to dramatically increase rates of HIV testing and treatment amongst gay men in Sydney (to allow NSW to meet it's obligations under the recent UN HIV Declaration).
Client: ACON, Positive Life NSW
Contact: Jonathan Street, ACON, (02) 9296 2172

Community Workshop for the Rockdale Town Centre Master Plan
60 residents and business owners packed into a sizzling ideas workshop in a cold winter's night in 2011 to generate concepts for the historic rededign of Rockdale's long neglected town centre.
Clients: Rockdale City Council
Contact: Erika Roka, Manager Urban Strategy, 9562 1851

Community Symposium on impacts of long-wall mining
A symposium on a highly controversial issue, with a panel of experts and politicians, and moderated questions from the floor.
Client: Campbelltown Arts Centre
Contact: Sharon Cullis 0421 714 391

Greening Public Housing Workshop
An intensive one-day event that brought together multi-disciplinary teams to plan sustainable approaches for the redesign of public housing estates in NSW. The NSW Minister for Housing, David Borger, was one of the partiicpants.
Client: Housing NSW
Contact: Sally Bassett (02) 8753 8892

Warringah Sustainability Strategy forums
Series of forums with randomly selected community members to develop Warringah Council's Sustainability Strategy.
Client: Warringah Council
Contact: Mette Kirk 0403 655 712

Sydney Bushcare Conference
The annual conference for Bushcare volunteers from across Sydney. A short report on the 2010 forum. Some participant comments:
- "I found the day GREAT!...REALLY enjoyed the participation format."
- "The benefits of the Forum have been ongoing for us. We keep going back to the various ideas that were floated and plan to use as many as we can."
- "Love the focus on spirit and sense of place, human values and stories."
- "Very inspirational and touching, I feel more committed to Bushcare."
Client: Sydney Metro CMA.
Contact: Judy Christie (02) 9895 7753

Facilitation of strategic alignment workshop
Including a hypothetical. For all NRM staff in the Gippsland region:
Client: Department of Sustainability and Environment (Vic).
Contact: David Willington, project manager (03) 5172 2111

Two day Sustainable Schools summit
Involving 80 principles, teachers and agency staff from across NSW.
Client: Department of Environment and Conservation (NSW).
Contact: Sue Burton, Program Manager (02) 8837 6007

Serrated Tussock Summit
Involving 87 agency staff, industry reps and graziers from across NSW.
Client: Department of Primary Industries (NSW).
Contact: Byron Stein, National Coordinator Serrated Tussock (02) 4828 6632

Regional road safety strategy workshop
Strategic review workshop for WestRoads road safety enforcement/education program in the NSW Inner West.
Client: Roads and Traffic Authority
Contact: Monica Lea, RTA Parkes office Ê

Guide for professional environmental facilitators
Development of practical guide for facilitators involved in the Neighbourhood Environment Improvement Program.
Client: Environment Protection Agency (Vic). A public version, the 'CoCreate' Guide for facilitators, is available on his website
Contact: Kate Stapleton, Program Manager, (03) 9695 2589

Training in facilitation skills
For staff working with community and industry
Client: Swan Catchment Council (WA)
Contact: Tony Soteriou, General Manager, (08) 9374 3314

Training in facilitation skills
For staff of the Community Greening Centre
Client:Newcastle City Council (NSW)
Contact: Col Bartley, Centre Manager, (02) 4904 3304

MC/facilitator of annual conference, Professional Association of Road Safety Officers
Involving 90 Road Safety Officers from councils across NSW.

Facilitation of National Theatened Species network annual workshop
Involving the national and state facilitators
Client: World Wildlife Fund.
Contact: National Coordinator C/- WWF (02) 9281 5515 (Canberra)
For details on Facilitation Skills training, click here.

About Les Robinson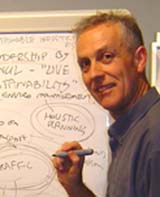 Les Robinson, author of CoCreate - a Facilitator's Guide to Collaborative Planning is a facilitator and trainer who specialises in community change towards sustainability.
He facilitates community forums, in-house strategy workshops and conferences on behalf of state agencies and councils.
He also trains in Facilitation Skills.
Les was formerly Social Marketing Director with Social Change Media in Sydney.

CoCreate: the facilitator's guide to collaborative projects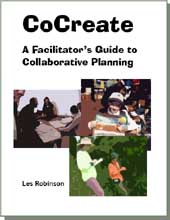 Based on the manual for the Victorian EPA's Neighbourhood Environment Improvement Program, this guide makes available to a wide audience a comprehensive methodology and tool set for facilitating multi-stakeholder projects that generate high levels of ownership (and hence action) by the participants.
It's a 218 page (A5) book packed with practical techniques and tips.
Download the complete guide (2.5 Mb PDF).

Facilitation links
The Global Facilitator Service Corps
Facilitation tools designed for disaster situations, but universally applicable. Including an interview with Gil Brenson-Lazan.